Hi there!
I should

admit that I'm

a big fan of

Etsy

-

the place of

incredibly

beautiful

handmade

items and

vintage.

I

can walk around on

Etsy

for all day, admiring the

color decisions,

skillfully

made

​​photos and

just enjoying

all

the beauty

that people

can make with their own

hands.
Unfortunately, I rarely have time to enjoy this beauty. But in recent days I realized that this is exactly what I was missing for a creative mood and a self-confidence, as an artist.
That's why I

decided to add

a new

blog

category

in which

I

would like to

share with you my

findings from

Etsy,

which

inspires me

and

which

are totally

in my

wish-list :) Hope you'll find something interesting for yourself too!
Today's theme is green. I actually never thought that I like this color and green color shades. But about a year ago I start finding some beauty in it. As I think all items made in green have some freshness. Not that freshness that gives blue color or white. The freshness of grass, leaves on the trees, plants, etc.. I think this is a reason why this color is so good for home decor - it can bring some leafy and nature notes in your place.
This fabric coiled basket can add a juicy note to your dinning area.
I think that the

fruit

s

in

a green bowl

looks so much

mouth-watering

,

fresh and juicy

than

fruit

s

in a grey

or

yellow

bowl,

for example

, so you just want to take one and it eat it right now!
These green Pea Sprouts are just suuuuper cute! What can look more realistic and close to the nature then this? I just felt in love with these sprouts long time ago. I think it can be a perfect home decor for eco-lovers :)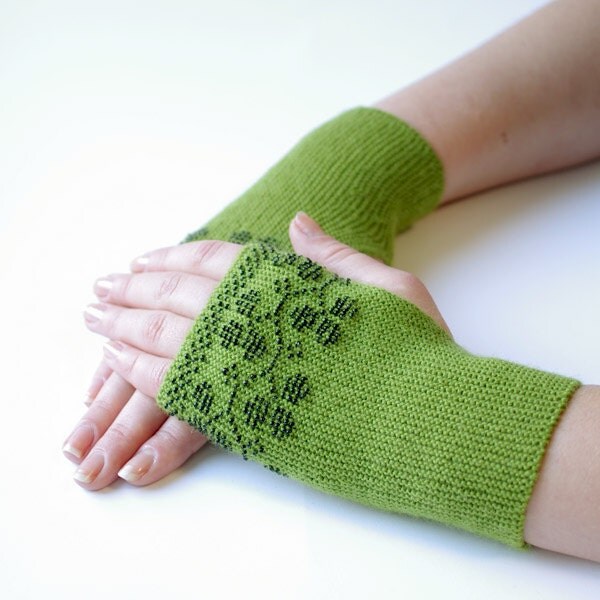 Cozy wool/polyamide blend fingerless gloves/wrist warmers by evarica
This beautiful handknitted stylish and cozy wool/polyamide blend fingerless gloves/wrist warmers can add to your outfit bright notes and as I said earlier - some freshness. Also that berries ornament is sooo tender!
I think they are just another one perfect thing for your home decor, if you want to give it more natural look :)
This crochet napkins ring are just beautiful! Imagine how great they could look on your table - fresh, cozy and original!
Thats all for now :) I have a lot of other things in my favs (and green - too!), but this post can't be endless!
See you tomorrow!
Kate